HVAC Sheetmetal Fabrication
With the Samson® machine, you can make high-quality, custom ducts and fittings for mechanical jobs. The optional software shown automatically designs 3-dimensional custom HVAC parts based on your dimensions, materials and other preferences.
To create fittings in the software:
First you choose the type of fitting you want to make from the library of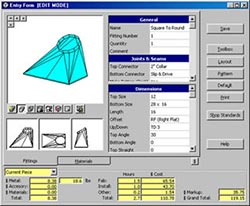 available styles. Next you enter the dimensions, seams, and other preferences you want. The flat pattern is generated, laid out, and cut by the machine. Then you form and assemble the pieces to make the finished fitting.
Of course, you can also draw any mechanical shape directly in the included software.
It's easy to nest and cut multiple fittings at once, making the most out of your 5ft by 10ft sheets of material. With Samson®, you'll make top-quality fittings in record time.